Blog
Stihl HSA 94 R Professional Cordless lithium-ion Battery 24" Hedge Trimmer dealer in London & Essex
Stihl HSA 94 R Professional Cordless lithium-ion Battery 24" Hedge Trimmer dealer in London & Essex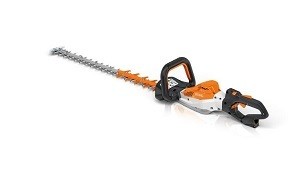 Extremely high-performance and robust professional cordless hedge trimmer with low blade speed for powerful cuts. Constant stroke rate (even under extreme load when performing heavy pruning), rotating multi-function handle with three-setting stroke rate, double-sided cutting blade in the pruning version, and screw-on cut and tip protector. Bar length 60 cm, without battery and charger.
About APS
Welcome to APS Limited Garden Machinery Online.
We would like to take this opportunity to introduce our company; we are an East London family based business first registered in 1900 established 1860.
Our History
Pamphilon & Sons was founded in 1875 by Allen Pamphilon. His business started out selling house hold goods such as pots and pans etc and fuels such as coal and paraffin from a front room of his cottage located in Wood Street.