Blog
Mountfield 1538H hydrostatic 39" cutting Ride on Lawnmower dealer in London & Essex only £1899.00
Mountfield 1538H hydrostatic 39" cutting Ride on Lawnmower dealer in London & Essex only £1899.00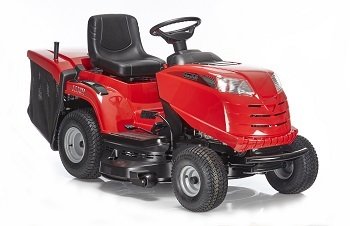 Click Here for more information
Enjoy intuitive manoeuvrability and an impressively rapid work-rate with this feature-packed lawn-tractor from venerable UK-brand Mountfield.
Driving it is a purpose-built Mountfield 7750 engine that has a large 452cc cylinder-displacement producing an impressive 11.2hp @ 2800rpm; and which features Mountfield's overhead-valve (OHV) technology that works to cut fuel-consumption, noise and polluting exhaust-emissions.
A six-litre fuel-tank will see you cover lots of ground between top-up stops; while an electric key starter makes the ignition process super-simple.
The Mountfield 1538H Lawn Tractor boasts a hydrostatic transmission that delivers infinitely variable foot-pedal controlled ground-speed adjustment, thereby making it easy to negotiate corners and to execute end-of-pass turns (a turning-radius of only 140cm contributes further to manoeuvrability).
It features an electromagnetic P.T.O. for smooth, low-wear blade engagement; and it offers single-lever, spring-assisted height-of-cut control, so the pre-mowing set-up process couldn't quicker or easier.
About APS
Welcome to APS Limited Garden Machinery Online.
We would like to take this opportunity to introduce our company; we are an East London family based business first registered in 1900 established 1860.
Our History
Pamphilon & Sons was founded in 1875 by Allen Pamphilon. His business started out selling house hold goods such as pots and pans etc and fuels such as coal and paraffin from a front room of his cottage located in Wood Street.