Blog
Honda FG205 Petrol Mini Garden and Allotment Tiller Rotovator Cultivator dealer in London & Essex only £611.00
Honda FG205 Petrol Mini Garden and Allotment Tiller Rotovator Cultivator dealer in London & Essex only £611.00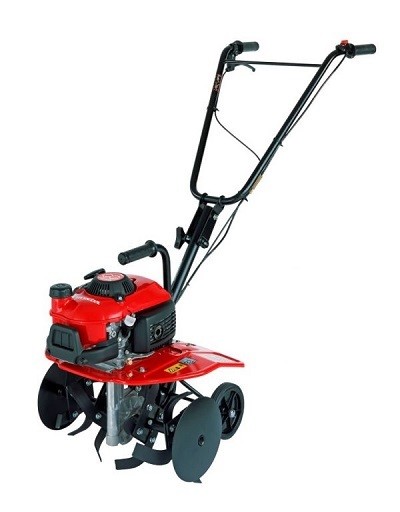 Creating perfect conditions for your garden with the minimum of effort is often a matter of finding the right kit for the task. In this respect the Honda Lawn & Garden division's wide product range should be able to fulfil most of your needs. Soil preparation is a key element of garden care and Honda's family of petrol mini-tillers are ideal for this task. The FG205, as the entry level mini-tiller in the range, is perfect for medium sized kitchen gardens and allotments
Essentially a larger version of the FG201 micro tiller – sharing the power unit and frame but able to cope with heavier workloads. A set of four toothed rotary digging tines deliver a tilling width that can be adjusted from 25cm to 45cm. The tilling blades are fitted with side discs to avoid any collateral damage to plants or garden structures if tilling in tight situations. The FG205's handlebars fold away to facilitate storage, while rear mounted transport wheels help move the machine between jobs.
The F205's motor unit is Honda's proven 49cc GXV50 four-stroke OHV petrol engine. This engines excellent fuel economy combined with the 0.35 litre fuel tank maximises run time. Honda's decompression recoil mechanism ensures easy starting and restarting.
It is also worth noting that the F205 can be used with a de-thatcher attachment. This converts the F205 into a handy lawn care tool as well as a cultivator.
About APS
Welcome to APS Limited Garden Machinery Online.
We would like to take this opportunity to introduce our company; we are an East London family based business first registered in 1900 established 1860.
Our History
Pamphilon & Sons was founded in 1875 by Allen Pamphilon. His business started out selling house hold goods such as pots and pans etc and fuels such as coal and paraffin from a front room of his cottage located in Wood Street.