Blog
Stiga Park Pro 340 IX 4WD Mulching Out front 34"-43" Cutting Deck four wheeled drive Ride on Lawnmower dealer in London & Essex only £5999.00
Stiga Park Pro 340 IX 4WD Mulching Out front 34"-43" Cutting Deck four wheeled drive Ride on Lawnmower dealer in London & Essex only £5999.00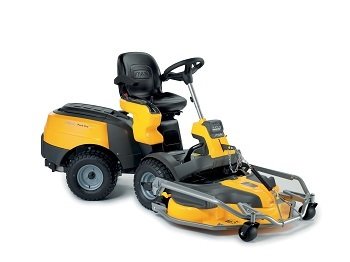 The Swedish-designed Stiga Park Pro 340 IX is characterised by its remarkable manoeuvrability and ability to access space-restricted areas, and as such will come into its own on lawns with lots of obstacles and landscaping to work around.
At its heart is a 570cc Briggs & Stratton Vanguard 18 V-Twin overhead-valve engine with a low-oil shutdown system and dual-element air-filter for exceptional durability in the face of intensive use; and angled ports for a smoother idle; improved fuel-efficiency; and reduced exhaust emissions. Key start makes firing-up the engine a simple process.
The Stiga Park Pro 340 IX Ride-On Lawnmower employs an out-front deck design that gives the driver an unhindered view of the cutting-path, thereby ensuring close-quarters cutting around obstacles and along fence lines can be carried-out safely and accurately. The forward-mounted deck also delivers a more consistent finish than a mid-positioned deck, as the grass is cut before it's flattened by the wheels (a choice of decks is offered).
This high-specification hydrostatic four-wheel-drive on the Stiga Park Pro 340 IX makes it possible to traverse terrain that would defeat a two-wheel-drive machine; and has a separate hydraulic pump that produces a rapid top-speed of 11km/h via a heavy-duty Kanzaki transaxle. Ground-speed adjustment is in infinite increments with no clutch or need to stop to shift-gear.
Boasting fully articulated steering, whereby the chassis pivots at its mid-point, the Park Pro 18 is hard to beat when it comes to manoeuvrability – obstacle negotiation and end-of-pass turns can be carried-out with ease. The pivoting chassis also ensures the back-wheels follow exactly the same line as the front-wheels, so you won't gave to worry about the rear-end of the mower clipping anything.
So as to maximise driver-comfort, Stiga have equipped this model with an adjustable high-backed seat that's mounted on a parallel suspension; and effort-saving hydraulic servo steering.
A powerful LED headlight means you'll be able to keep working in low-light conditions; while an hour-metre lets you see when a service is required.
Also featured is an adjustable height-of-cut, which you can set to any of ten-stages between 25 and 90mm (depending on deck); and a hugely capacious 14-litre fuel-tank that works to keep downtime to a minimum.
You can chooise between these combi decks: 95cm manual lift; 95cm electric lift; 100cm electric lift; 105cm electric lift; 110cm electric lift).
About APS
Welcome to APS Limited Garden Machinery Online.
We would like to take this opportunity to introduce our company; we are an East London family based business first registered in 1900 established 1860.
Our History
Pamphilon & Sons was founded in 1875 by Allen Pamphilon. His business started out selling house hold goods such as pots and pans etc and fuels such as coal and paraffin from a front room of his cottage located in Wood Street.