Stihl FS 56 C-E bike handle brushcutter & strimmer dealer in and around London & Essex £266.00
Stihl FS 56 C-E bike handle brushcutter & strimmer dealer in and around London & Essex £266.00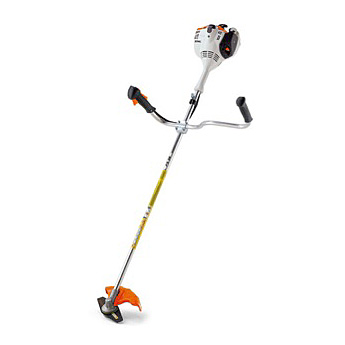 Click here for more information
New generation, light-weight petrol brushcutter with straight shaft, bike handle and ErgoStart. Modern appearance, convenient operation and very simple starting procedure are the highlights of the new generation Stihl grass trimmer range. The number of steps needed to start the machine has been drastically reduced. The frustration of a flooded engine is virtually eliminated. New 2-stroke engine with stratified charge allows fast acceleration, low emissions, reduced fuel consumption. Comes standard with fully adjustable bike handle and AutoCut line head.
Reduced-emission engine technology
2-stroke engine with stratified charge. A fuel-free layer of air is created between the burned charge in the combustion chamber and the fresh charge in the crankcase, reducing the amount of fuel lost during the charge cycle. This results in more power with a lower weight, up to 20% lower fuel consumption than regular 2-stroke engines and significantly reduced exhaust emissions.