Stihl FS 70 C-E Bike handle brushcutter & strimmer dealer in and around London & Essex £296.00
Stihl FS 70 C-E Bike handle brushcutter & strimmer dealer in and around London & Essex £296.00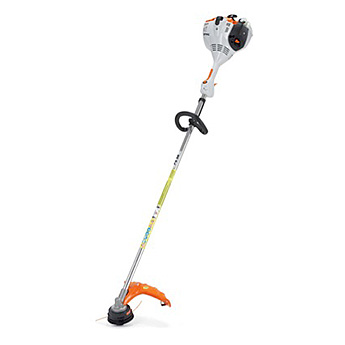 Click here for more information
Extremely robust 0.9 kW petrol brushcutter with bike handle. 2-MIX engine consumes up to 20% less fuel and 70% less emissions compared to conventional two-stroke engines without 2-MIX technology. ErgoStart simplified starting procedure for increased comfort. Optimised trimmer angle for working on large areas of tough grass.
Reduced-emission engine technology
2-stroke engine with stratified charge. A fuel-free layer of air is created between the burned charge in the combustion chamber and the fresh charge in the crankcase, reducing the amount of fuel lost during the charge cycle. This results in more power with a lower weight, up to 20% lower fuel consumption than regular 2-stroke engines and significantly reduced exhaust emissions.
Manual fuel pump (Purger)
A small fuel pump delivers fuel to the carburettor at the touch of a button. This reduces the number of starting strokes required following extended breaks in operations.