Stihl FS 460 C-EM Bike handle Clearing Saw brushcutter & strimmer dealer in and around London & Essex £715.00
Stihl FS 460 C-EM Bike handle Clearing Saw brushcutter & strimmer dealer in and around London & Essex £715.00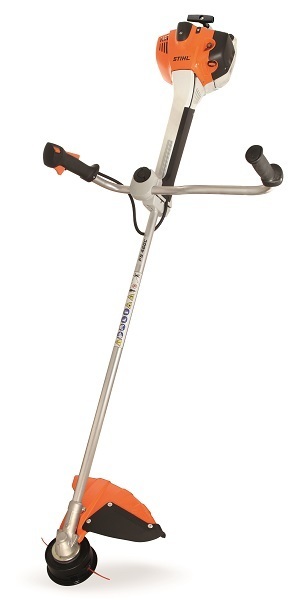 Click here for more information
Stihl's most advanced clearing saw ever, featuring the 'M-Tronic' fully electronic engine management system which adjusts ignition timing and fuel metering in all operating modes. With ErgoStart and simplified starting, the low emission 2-MIX engine and a 4 point anti-vibration system, the FS 460 C-EM is the ideal choice for anyone with large areas of tough overgrown grass to maintain.
Reduced-emission engine technology
2-stroke engine with stratified charge. A fuel-free layer of air is created between the burned charge in the combustion chamber and the fresh charge in the crankcase, reducing the amount of fuel lost during the charge cycle. This results in more power with a lower weight, up to 20% lower fuel consumption than regular 2-stroke engines and significantly reduced exhaust emissions.
Large fuel tank
The transparent fuel tank with a volume of 0.75 l ensures long working intervals with fewer fuel stops. The level is easily visible from the outside. Easy to refuel through a large, easily accessible tank opening.
Air filter with long service life
The easily accessible paper filter with a long service life means it can go for long intervals without changing.
Winter setting slide control
It is quick and easy to switch the setting from winter to summer using the slide control. Using the winter setting will prevent the air filter and carburettor from freezing.
Manual fuel pump (Purger)
A small fuel pump delivers fuel to the carburettor at the touch of a button. This reduces the number of starting strokes required following extended breaks in operations.
Start flap lever (M-Tronic)
With the M-Tronic, you do not have to worry about cold or warm start. With M-Tronic there is only one starting position on the start flap lever. The system detects cold or warm start automatically and electronically calculates the exact amount of fuel. You can start with fewer starting strokes and can apply full throttle immediately. If you press the throttle trigger the start rotary switch will automatically return to the operating position.
Stihl M-Tronic
This fully electronic engine management system adjusts ignition timing and fuel metering in all operating modes. It also takes external conditions such as temperature, altitude and fuel quality into account. It ensures consistent engine performance, a constant maximum speed and superb acceleration. M-Tronic makes manual carburettor adjustments unnecessary. Thanks to electronic cold/warm start recognition, now there is only one start position on the combi-lever. The engine starts after fewer pulls and with no change of position, and can immediately accelerate up to speed – even after a cold start. M-Tronic also remembers the settings from the last time the tool was used. So when external conditions are the same, optimal engine performance is available every time you start up again.