Stihl FS 91 R loop handle brushcutter & strimmer dealer in and around London & Essex £399.00
Stihl FS 91 R loop handle brushcutter & strimmer dealer in and around London & Essex £399.00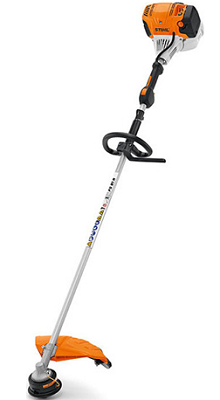 Click here for more information
For working on large areas of tough grass. Simplified starting, loop handle, control handle with stop button, 4-MIX® engine with larger tank for increased cutting time between filling, rigid drive shaft, Supplied with single strap shoulder harness and AutoCut mowing head.
Stihl 4-MIX® engine
You can always rely on Stihl to keep setting new benchmarks this time with 4-stroke mixed lubrication technology. The Stihl 4-MIX® engine, which runs on a fuel-oil mix just like a 2-stroke, offers the benefits without the compromises of 4-stroke power. Stihl 4-MIX® engine technology provides fast acceleration, more power, added torque, lower noise, reduced emissions and increased fuel efficiency to complete jobs quickly, quietly and more easily.
Decompression system
The decompression valve allows some of the compression pressure in the cylinder to escape, so less force on the starter rope is needed.
Air filter with long service life
The easily accessible paper filter with a long service life means it can go for long intervals without changing.
Reduced-emission engine technology
2-stroke engine with stratified charge. A fuel-free layer of air is created between the burned charge in the combustion chamber and the fresh charge in the crankcase, reducing the amount of fuel lost during the charge cycle. This results in more power with a lower weight, up to 20% lower fuel consumption than regular 2-stroke engines and significantly reduced exhaust emissions.