John Deere X126 42" cutting deck Ride on Lawnmower dealer in and around London & Essex £2,510.00
John Deere X126 42" cutting deck Ride on Lawnmower dealer in and around London & Essex £2,510.00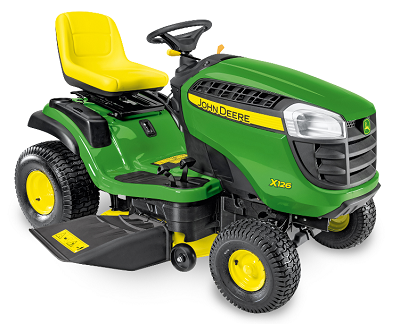 Click here for more information
The John Deere X126 combines dependability, durability and power in every aspect of its construction, including a fully welded steel frame and a cast-iron front axle.
Operating the mower is a breeze, too, with an ergonomic operator station, quality headlights, and an infinite choice of ground speeds.
Easy to Own. Easy to Operate. Easy to Maintain. The X126 Lawn Tractor is aimed at medium gardens up to 5,000m2, it has a 42" (107cm) Edge cutter deck which allows you to side discharge with the option of being able to mulch and add a 230L collection system.
The X126 has a reliable single cylinder 500cm3 Briggs & Stratton engine, hydrostatic 2-wheel drive transmission with 2 wheel steer making light work of cutting your grass. With the update to the pedal system this model unlike its predecessor has the forward and reverse pedals side-by-side so you can control direction and speed without raising a foot